Hand Car Wash vs. Touchless Car Wash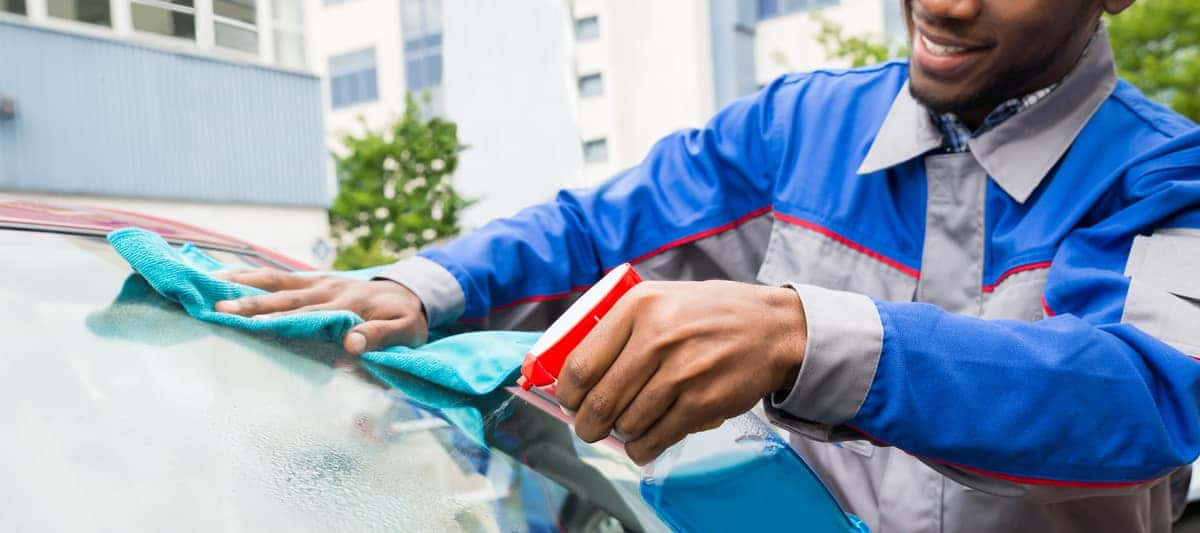 When your Phoenix car's exterior is looking not-so-hot following an off-road excursion or an Arizona dust storm, you'll probably want to give it a good washing to get it back to its former glory. But between hand car wash vs. touchless car wash options, which is right for your car's current condition? Boths options have advantages and drawbacks to consider, and you can learn more with Rocky's Auto Credit below!
---
Learn More About Hand Wash Car Wash
If your vehicle is in need of a rigorous cleaning job, you'd do best with a hand wash car wash. A hand car wash can easily be done at home or by a professional car detailer around Glendale. Car washing by hand is often preferable for more serious cleaning jobs, as it allows you to get into the small crevices of your car that could be missed in a touchless car wash. Learn about the advantages and disadvantages of a hand car wash, below:
Hand Car Wash Pros
A Deeper Clean – As we noted, a hand wash car wash will allow you to get a deeper clean for your car. Hard to reach areas like the undercarriage and wheel wells can be focused on, and you'll have an easier time removing dried bugs and difficult debris because you can put more muscle into the cleaning job.
Affordability – After making the initial investment in the proper cleaning supplies, choosing to hand wash your own car can save you a decent amount of money compared to the price you might pay to have a professional service take care of the job in Tempe.
Hand Car Wash Drawbacks
Specialty Car Wash Centers Cost More – When you take your car to a special detailing center for a hand car wash, you'll naturally pay more than if you had washed it at home. But if you're short on time or live in an apartment or condo where you might not have access to a driveway or hose, it will likely be worth the cost.
Car Paint Could Be Damaged – Choosing a hand wash car wash doesn't guarantee that your car paint will be damaged, but it could happen if you wash your car too frequently. Most experts recommend a car wash every two weeks or so.
Learn More About Touchless Car Wash
Sometimes referred to as a hands-free car wash, a touchless car wash is the automatic mechanized type of car wash that is often found at gas stations around Glendale. An automatic hands-free car wash will almost always be cheaper than bringing your car to a special facility, but it does come with its own set of advantages and disadvantages:
Hands-Free Car Wash Pros
Time-Saving – Designed to be quick and efficient, you'll usually make your way through an automatic car wash in 10 minutes or less.
Gentle on Your Car's Paint – Hands-free car wash mechanisms are made to be gentle on cars, so there is minimal risk of damaging or scratching your car's exterior.
Affordability – Because touchless car washes are automated and require no manual labor to complete, they're a cost-effective option.
Hands-Free Car Wash Drawbacks
Less Thorough Cleaning Job – Because an automatic car wash is designed to be delicate as it cleans your car, you may be unsatisfied with the actual cleaning job as dried bugs and tough debris may remain after the washing.
Water Spots – Automatic car washes usually have air dryers at the end that blow away the water on your car, but they often leave behind some stray droplets, which can dry on your way home and leave water spots.
Learn More Maintenance Tips With Rocky's Auto Credit!
Looking for more car maintenance tips? Whether you want to know the difference between a hand car wash vs. touchless car wash or you need information on cleaning the inside of your windshield or your car floor mats, Rocky's Auto Credit is here to help! Contact us today to start a conversation. We're always happy to discuss car maintenance and performance tips with our customers, including the difference between premium vs. regular gas!
More from Rocky's Auto Credit
If you're shopping for a used sedan in Phoenix, you can't go with the comfortable and confident Nissan Altima. With both the 2021 and 2022 versions, you'll be able to enjoy plenty of features and amenities to enhance your Glendale drives within the Nissan Altima interior, so allow us to break down the options below….

You can count on Rocky's Auto Credit to provide you with a comprehensive selection of pre-owned vehicles. However, if you're looking for something comfortable enough for family adventures around Phoenix, the Ford Explorer has you covered. The Ford Explorer is one of the most popular pre-owned SUVs that we offer and for good reason. Continue Your…

If you are looking for an SUV that will take you along every Tempe road with ease, look no further than the 2022 Chevy Traverse. In addition to the impeccable engine performance and a well-appointed interior, the Chevy Traverse towing capacity reaches up to 5,000 pounds. Used Traverse InventoryPre-Owned Vehicle Research When it…