How to Clean A Car Windshield Inside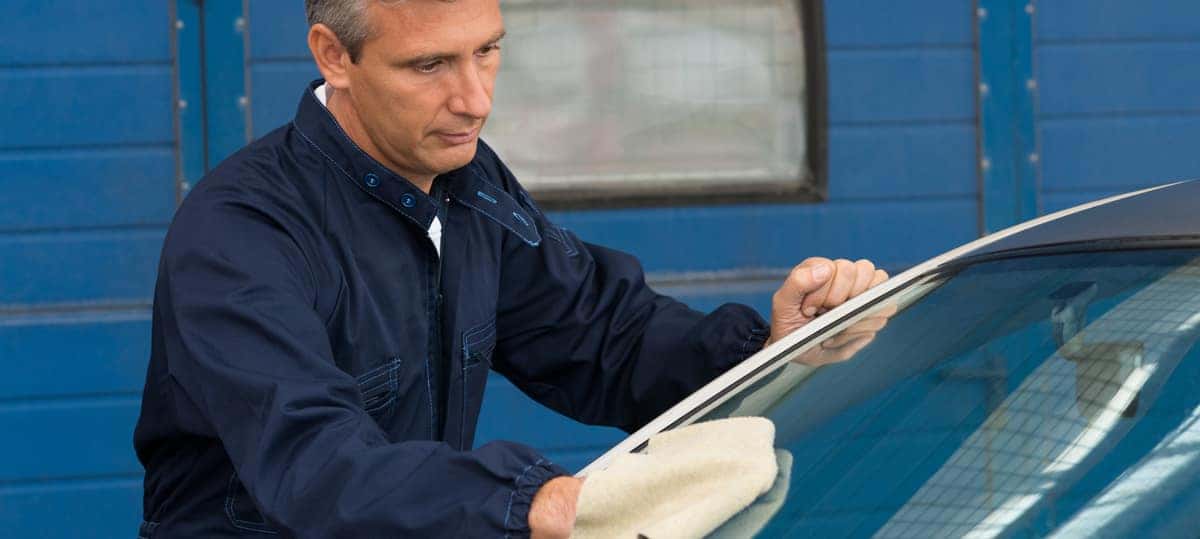 We think you'll agree that being able to see out of your windshield is vitally important when you're driving. Maybe that's why so many of our Phoenix customers are so diligent about keeping their windshields clean, no matter what type of car wash they prefer. Still, most people don't give much thought to how to clean the inside of car windows. It's a little more involved than you might think. So, here's our guide on how to clean a car windshield inside. For more tips on car maintenance, be sure to check out our online auto service information center. Let's start with this question: Can you use Windex on car windows?
---
Can You Use Windex on Car Windows?
So, can you use Windex on car windows? The answer is almost always yes. The reason our Tempe customers often ask this question is due to the contention that Windex will damage window tint. But there is no evidence that the ammonia in Windex will cause any damage to tint that was installed in the factory. Though, we recommend not using Windex on tint installed by a third party, just to be safe. However, Windex can leave streaks, regardless of how it's advertised. So, as you can see from our guide below on how to clean a car windshield inside, there's more to it than just spraying the window down with Windex and wiping it with a paper towel.
How to Clean a Car Windshield Inside: Items You'll Need
We don't recommend using paper towels on your windshield, as they can pick up lint and smear or even scratch your glass. Just about any guide on how to clean the inside of car windows will include these items:
Microfiber cloth
Store bought glass cleaner or a homemade mix (water, teaspoon of dishwashing liquid, a few drops of vinegar)
Rubbing alcohol
How to Clean a Car Windshield Inside: Four Steps
We believe that following these steps is the best method, when it comes to how to clean inside car windows.
Wipe the windshield down with a clean, dry microfiber cloth to remove any dirt.
Use another cloth to apply a bit of rubbing alcohol in order to remove any grease from the glass.
Spray your glass cleaner on the other side of your microfiber cloth (not on the windshield). Then, wipe the glass in a circular motion.
Completely dry the glass. Any glass cleaner left on the windshield will leave residue or streaks.
Searching for a New Ride? Consult Our Inventory Online
We pride ourselves at Rocky's Auto Credit of Mesa on the cleanliness of our pre-owned cars for sale. And, we make it easy for you to get behind the wheel of your next vehicle at a price that won't break your budget. You can even apply for financing online. Our dealership is conveniently located near Glendale, but you can browse our entire inventory online from home today, and contact us if you have any questions about a particular model or would like more maintenance tips, like how often to rotate tires or how to fix dents and clean leather seats.
More from Rocky's Auto Credit
A quality pre-owned Hyundai Sonata would be great for your Phoenix commute. But you probably have questions. Fortunately, our experts are here to help. We're going to go over some important information about Hyundai Sonata vehicles so that you have a better understanding of whether it's a good fit for your Mesa lifestyle. Some questions we'll…

With a wide selection of pre-owned vehicles available, it's never been easier to find the perfect vehicle to take home with you to Phoenix when you shop at our dealerships. A popular option that we think you'll appreciate is our pre-owned SUVs. Our used SUVs come with plenty of versatility and performance to really elevate…

When you're looking for the best used commuter car for your Phoenix drives, it's important that you weigh all your options. There are likely many different pre-owned vehicles for you to choose from, but not all of them will offer the same benefits. So, what is a good commuter car? The answer truthfully depends on…