How to Clean Leather Car Seats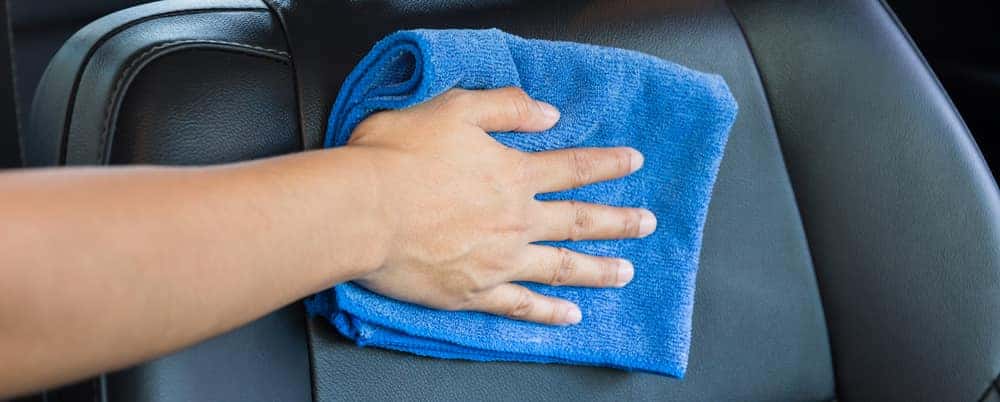 Whether they are in a new or used vehicle, red or yellow, perforated or premium, Mesa car owners are proud of their leather seating. Leather seat care, like all leather care, often can feel intimidating or risky, but Rocky's Auto Credit has a guide to help you assure a spotless, beautiful interior. Learn how to clean leather car seats with us, below.
---
Leather Seat Care: Materials
To start, let's go over the materials you can easily get around Phoenix that will be important for this process.
Supplies: A soft-bristled brush, microfiber cloth, a rag, a leather conditioner, a ph-neutral cleaning solution, a leather cleaning solution, or soap.
What NOT to use: Those wondering how to clean leather car seats are probably most afraid of damaging or staining the seats. To avoid this, do not use sharp objects, household cleaners, furniture polish, dark cloths, or detergents on your leather seats!
How to Clean Leather Seats: Step by Step
Now that we know what to use (and what to avoid!), go about leather seat care by following these steps:
Vacuum first: Remove all the dirt and debris with a vacuum cleaner, being sure to use a soft bristle attachment.
Apply the solution: Use your chosen cleaner from the list above to clean your seats with your brush and cloth. Perforated leather seat-owners should take special care to not get the liquid inside the perforations.
Apply leather conditioner: Leather conditioner keeps the leather from cracking, maintaining a smooth surface on your leather seats. Use a microfiber cloth to apply this conditioner carefully.
How to Clean Leather Seats: Maintenance Tips
You can perform a lot of car maintenance at home in Glendale, and leather seat care is no exception. Regularly dusting your leather seats will help keep them looking spiffy. There's more you can do:
Shun the sun: Your leather seats can be bleached and damaged by the sun, so keep your car in the shade when parked and in your garage at home.
Be aware of extreme temperatures: Like many parts of your vehicle, extreme temperatures can cause wear on your leather seats, so try to keep your vehicle in climate-controlled places if you can.
Keep a handy bottle of leather cleaning solution for emergency spills and other spot-cleaning necessities.
Learn More About Car Care With Rocky's Auto Credit!
Drivers from Mesa to Tempe who want to keep their vehicles in great shape can trust the resources provided by Rocky's Auto Credit. We're happy to share tips on topics like leather seat care, removing dents, hand car wash vs. touchless car wash, and jump starting for our customers and members of our community! Please contact us today with any and all car maintenance questions!
More from Rocky's Auto Credit
If you're shopping for a used sedan in Phoenix, you can't go with the comfortable and confident Nissan Altima. With both the 2021 and 2022 versions, you'll be able to enjoy plenty of features and amenities to enhance your Glendale drives within the Nissan Altima interior, so allow us to break down the options below….

You can count on Rocky's Auto Credit to provide you with a comprehensive selection of pre-owned vehicles. However, if you're looking for something comfortable enough for family adventures around Phoenix, the Ford Explorer has you covered. The Ford Explorer is one of the most popular pre-owned SUVs that we offer and for good reason. Continue Your…

If you are looking for an SUV that will take you along every Tempe road with ease, look no further than the 2022 Chevy Traverse. In addition to the impeccable engine performance and a well-appointed interior, the Chevy Traverse towing capacity reaches up to 5,000 pounds. Used Traverse InventoryPre-Owned Vehicle Research When it…