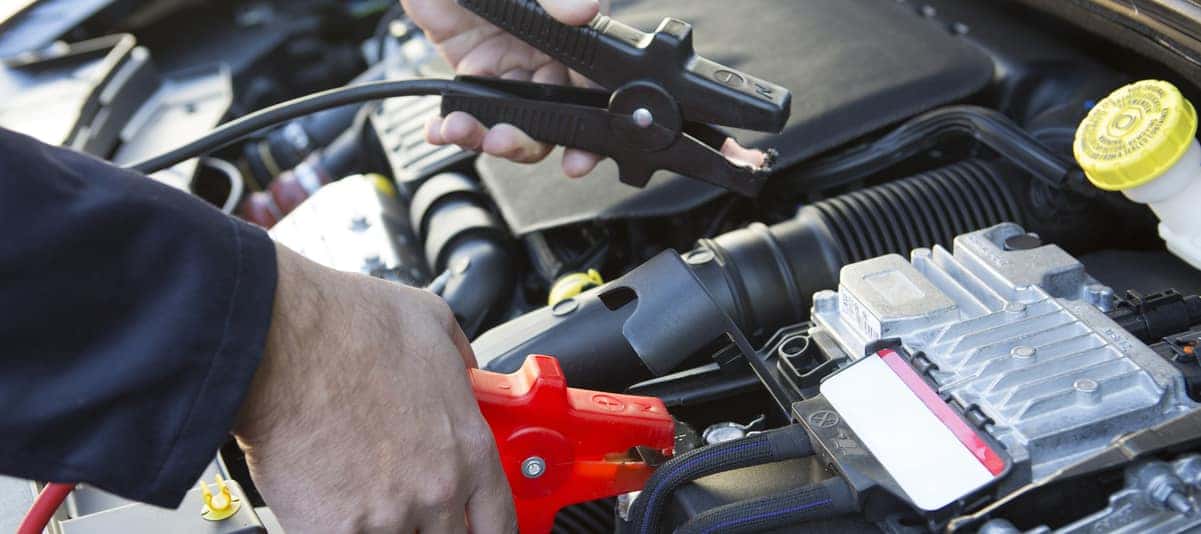 We've all been there at one point or another. You left your headlights on when you parked your car somewhere in Phoenix, and now it needs a jump start. Whether you know how to jump start a car battery or have never jump started one before, we think you'll find the following tips on how to properly jump start a car battery pretty useful. It's important to the team at Rocky's Auto Credit of Mesa that our customers are safe as they service their vehicles. So, we feel it's important for you to know the proper way to jump start a car. We even discuss what to do if your car won't jump start. If you enjoy this guide, keep checking our Car Maintenance Tips & Tricks page for more useful information.
---
Tips on How to Properly Jump Start a Car
The proper way to jump a car battery starts with being safety-conscious. Keep these tips on how to jump start a car battery in mind:
Don't jump start a car battery that is cracked or leaking; doing so could cause an explosion and pose a health hazard to anyone who is near the car.
Having a high-quality set of jumper cables with an eight gauge will help to jump start most car batteries safely and effectively. The result of using the wrong type of cables could be that your car won't jump start. Even worse, this could cause melting and/or overheating during the process.
If after you follow the steps below and for some reason your car won't jump start, check the following:
Are the cables connecting the battery to the engine loose? If so, tighten them.
The battery posts may be corroded and need to be cleaned.
The starter may be malfunctioning. If this is the case, you'll likely hear a clicking sound.
The battery may have reached the end of its life.
The Proper Way to Jump Start a Car Battery
We often see folks in and around the Glendale area who say they know how to jump start a car battery, but still make simple mistakes – it happens to the best of us! Follow these steps on how to properly jump start a car battery:
Park the working vehicle as near as possible to the parked vehicle, but without touching.
Make sure both vehicles are turned off, with both parking brakes engaged.
Locate the batteries after opening the hoods of each vehicle.
Attach the red clamp cable to the positive terminal of the dead battery. Then, connect the other end of the red clamp to the working battery.
Proceed to connect the black negative clamp cable to the negative terminal of the good battery.
To ensure a safe jump, it's important to have the last remaining clamp affixed to an unpainted metal surface of the non-working vehicle.
After everything is nice and secure, you may start the engine of the working vehicle for about a minute or two, which will give the dead battery a better chance to charge.
While the working vehicle is running try to start the engine of the dead vehicle. If your car won't jump start, it may just need to charge a little longer.
Once the vehicle starts up, you would want to carefully remove each clamp starting with the black negative clamps, then the red.
To finish a successful jump start, make sure to keep the now working vehicle on for several minutes. Afterwards, take it on a test drive. This will allow the battery to be fully charged.
Need a New Ride? Consult Our Inventory Online
If your car won't jump start, car service from a professional mechanic may be needed. Or, it may be time to upgrade to a new ride. At Rocky's Auto Credit, we make it easy for you to get behind the wheel of your next vehicle at a low price you'll feel great about. You can even apply for financing online. Our dealership may be conveniently located near Tempe, but you can browse our entire inventory of quality pre-owned cars from the comfort of your own home today! For more car maintenance tips, check out our online information center where you'll find features on tire rotation frequency, leather seat care, and more!