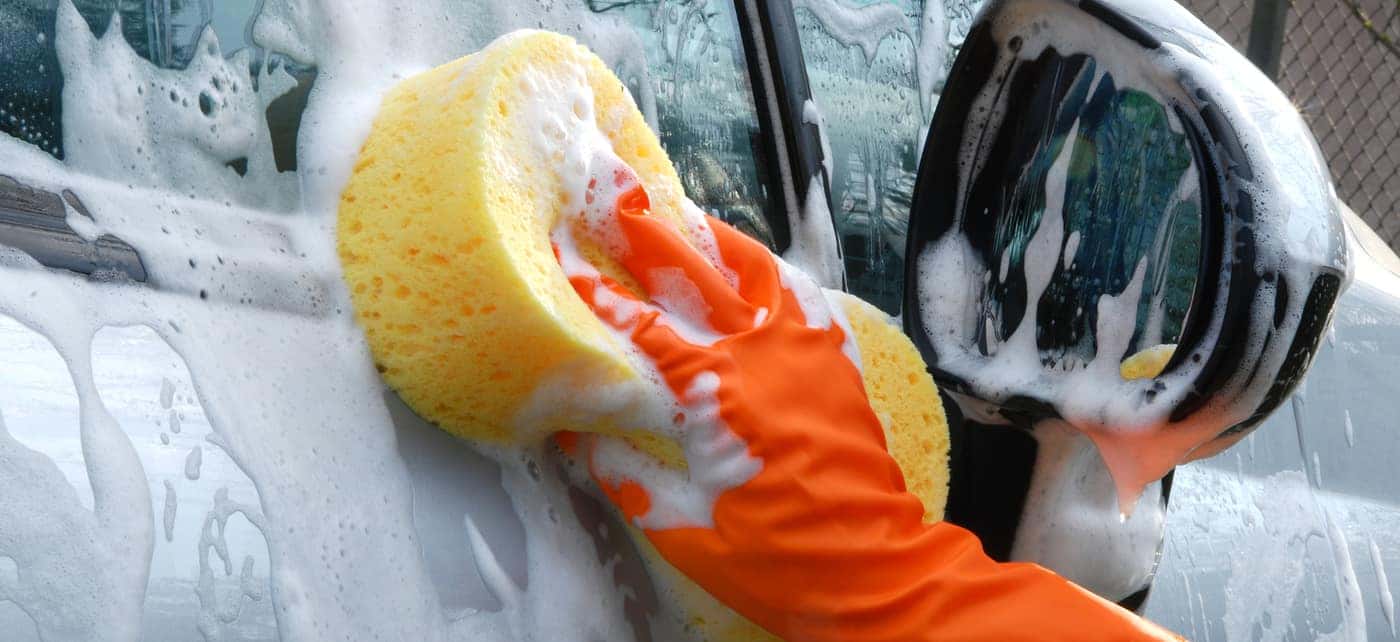 After you've found the perfect pre-owned vehicle for your Phoenix adventures at our dealership, you'll want to regularly wash it to keep it looking at its best. But, did you know that regularly washing your car has a larger purpose than just keeping it clean? When you wash a car correctly, you're helping to protect the exterior paint by removing dust and debris that's not typically available to the naked eye.
Removing that layer of dust and debris helps prevent tiny scratches and damage to your paint. To make car washing even simpler, our team at Rocky's Auto Credit has put together this guide on how to clean your car. We'll even help you answer some common questions about cleaning your vehicle such as:
How often to wash a car?
Can you use dish soap to wash your car?
Can you use Windex on car windows?
If you're looking for other ways to keep your vehicle in excellent shape, be sure to check out our other car maintenance tips and tricks!
---
5 Things To Keep In Mind When Washing Your Car
Washing your vehicle can be as involved as you'd like. Whether you're looking to perfect that finish to shine on the Glendale roads or you're simply looking for a way to quickly wash your vehicle efficiently, we've got you covered. Let's take a look at how to wash your car:
Plan Your Next Steps
Determine how you're planning on washing your vehicle. Are you looking for a quick wash or do you want to wash, wax, and polish it as well? Vehicles that have been regularly washed and cared for will likely just need a quick wash. However, vehicles that seldom experience washes or have finicky substances like sticker residue stuck on it, will likely need more extensive attention.
Rinsing & Washing
Begin rinsing your car with water to loosen up any dirt and debris
Use a car-washing mitt and microfiber towels to thoroughly wash and dry your vehicle.
Once you're done, you can use an ammonia-free solution to clean your car windows. We recommend you dry them with a microfiber towel to avoid streaks
Finally, switch to an acid-free pH-balanced aluminum wheel cleaner to gently but effectively clean the tires and wheels.
Buffing Stubborn Spots
Does your car have stubborn bumps, such as tree sap, that won't seem to come off with washing? You can use a clay bar to gently buff them away. If you notice any tiny scratches on your car's paint, you can apply a compound with a dual-action polisher to fill them in. Usually, this will take about 2-4 coats.
Polishing
You'll get the best results from dual-action polishers. Polishes contain oils that give your vehicle a shiny and sleek look so that you can turn heads on Tempe drives. Polish can be applied using an orbital buffer or a soft towel.
In comparison to towels, orbital buffers are faster, but you'll have less control and may need a towel to get into the nooks and crannies. You'll also want to take extra care because if a small pebble, for example, comes between the orbital buffer and your car, it'll likely cause scratching.
Waxing
Car wax gives your car a glossy look, but it also helps protect the paint from UV rays and prevents fading. The two most common types of car wax are carnauba and polymer. While polymer costs more than carnauba, it sets more quickly and leaves your car with a sleek, gleaming finish.
Common Questions About Washing a Car
We've touched on how to wash your car properly, but you likely still have some questions left like, "Can you use dish soap to wash your car?" or "Can you use Windex on car windows?" Don't worry, we're here to help answer those questions! Here are some common questions about washing your car in your own Mesa garage:
How Often To Wash a Car
If you're wondering, "How often to wash your car?" the answer really depends on your specific lifestyle and how often you drive. If you only use your car for everyday commuting as opposed to off-roading or something strenuous, you can likely get away with washing your car every two weeks and waxing it every six months. If you're heading off the beaten path for an off-roading adventure, be sure to clean your vehicle as soon as you return to keep it looking its best.
Can You Use Dish Soap To Wash Your Car?
At first glance, dish soap may seem like a great option to clean your vehicle. After all, it's designed to remove oils and debris from your dishes. But, can you use dish soap to wash your car? We'd recommend staying away from dish soap to wash your vehicle. Dish soap works almost too well and could end up damaging the finish on your vehicle by removing its protective coatings.
Can You Use Windex on Car Windows?
Oftentimes, we get asked, "Can you use Windex on car windows?" and the short answer is yes. Using ammonia-free Windex on your car windows is possible. However, you'll want to be careful if aftermarket tint has been added to your windows.
Windex can sometimes ruin the finish of tinted windows, so you'll need to be cautious. If you do decide to use Windex on your car windows, we suggest you keep it away from interior finishes on your vehicle as well.
More Car Washing Tips
Here are a few more car washing tips to keep in mind:
Car Washing Materials: Use a solution that's specifically designed to protect your car's exterior paint, instead of hand soap or dish soap. Check your owner's manual for suggestions.
Washing Process: Work up a good lather and get into the cracks and crevices. Clean the sponge, microfiber cloth, or washing mitt with fresh water as you move from the car body to the windows to the wheels and tires.
Drying Process: Use a dry microfiber towel to dry off your car. Don't let it air dry, as this can result in streaks.
Learn More From the Team at Rocky's Auto Credit!
If you have any questions about car washing or the difference between hand wash vs. touchless car wash, contact us online for further assistance. Our team is standing by to assist you!